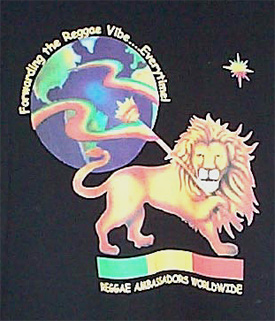 RAW begins to celebrate its 10th Anniversary on December 11, 2002, and is offering the RAW T-shirt and the "RAW 2000" compilation CD at discounted prices. Limited to RAW members in good standing, the sale will run from December 11, 2002 to January 11, 2003.
The RAW T-shirt was designed by Lawrence Hansen (RAW #158) of Mystic Lion Art & Design (www.mysticlionart.com). It features the Lion of Judah with a globe of the world and "Reggae Ambassadors Worldwide" on the front. The design is 4-color; the T-shirt is black, 100% cotton.
"RAW 2000" was produced by Phil Hopkins (RAW #995), CEO of Dogtown Productions, Inc. (www.dogtownproductions.com). The 75 minute CD was released in July, 1999, on Ruff Stuff Records (RAW #1317) and features Isaac Haile Selassie (RAW #1141); Nasio Fontaine (RAW #808); Dr. Ring Ding & H.P. Setter (RAW #1137); Reggae Cowboys (RAW #977); Ras Nas (RAW # 1118); Whispering Lion (RAW # 990); Rising Lion (RAW # 995); Isaac Miller & Solid Earth (RAW #789); Tonca (RAW #865); Cosmo (RAW # 455); Irie Time (RAW #355); Ice Melter & Dr. Ring Ding (RAW #1137); Mystic Vibrations (RAW #610); Jerri Jheto (RAW #1100); Dub Factory (RAW # 1150); Collington Daley (RAW # 734); Root Awakening (RAW #374); Fyah Wyah (RAW #18); Batta (RAW #986), and Patrick Junior (RAW #941).
Sale prices, for mailing within the United States, are:
T-shirt $12 + $2 S&H per shirt
CD $8 + $2 S&H per CD
Sale prices, for mailing outside the United States, are:
T-shirt $12 + $3 S&H per shirt
CD $8 + $3 S&H per CD
NOTE: Priority mail is available ONLY within the US at a S&H cost of $3.85 for each 1/2 pound (for no more than 1 T-shirt + 1 CD); there is no no option for priority mailing outside the US.
Checks and money orders, in US currency only, should be made payable to Reggae Ambassadors Worldwide, and mailed to:
Tom Pearson (RAW #33)
911 Marine Drive
Tumon Bay, Guam 96911
USA
Please include the quantity of each item you are purchasing; the size(s) of the T-shirt (medium, large, X-large, XX-large); your full postal and e-mail address, and your RAW membership number with your order. Allow 4-6 weeks for delivery.