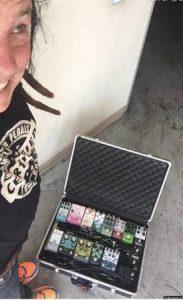 Dale Hauskins
(Orange County & Los Angeles, California)
Lovers, Caribbean
CONTACT: Dale Hauskins
ph: 858.401.2973 or 714.444.6951
dalehauskins@gmail.com
web: reverbnation.com/DaleHauskins
Discographies,Tours,Works:
The alliez (from hawaii maui cd 2008), pato banton, bamiki bandula, bargain music, einstein brown (trinidadian top steel pan players), errol dunkley, calypso, rose, martin campbell, phil chen (jeff beck rod stewart the doors bassist), mikey dread, majek fashek (african super star), flame dream (Swiss progressive rock band 5lp on phonogram), fully fullwood (peter tosh,bob marley,soul syndicate)
wadi gad, joe higgs (reggae's father), humble soul (hawaii), jah mex (firm soundation 2009 produced by fully fullwood, jah soldiers. remi kabaka, keys of creation (2009 tour hawaii with collie buddz), Kelpe, kontiki, lambsbread, legalizers (ventura reggae band), long beach star party cruises, nick magnus (steve hacket from genesis keyboardist), marty dread (maui hawaii reggae ambassador), micah 9 (legendary Freestyle Fellowship founder, rap pioneer), johnny osbourne, triston palmer, princess cruises, rankin' joe, sammy dread, santa davis, sapadilla, dj scotty coats, scientist (legendary dub, pioneer), skunk records, tippa irie, dave wakeling. Plus many more performances,recordings with international, Hawaiian, Caribbean, European and American artist-musicians.